The Worlds 1st and Only Cross-Platform Banking ERP and CBS with Generative AI Integrated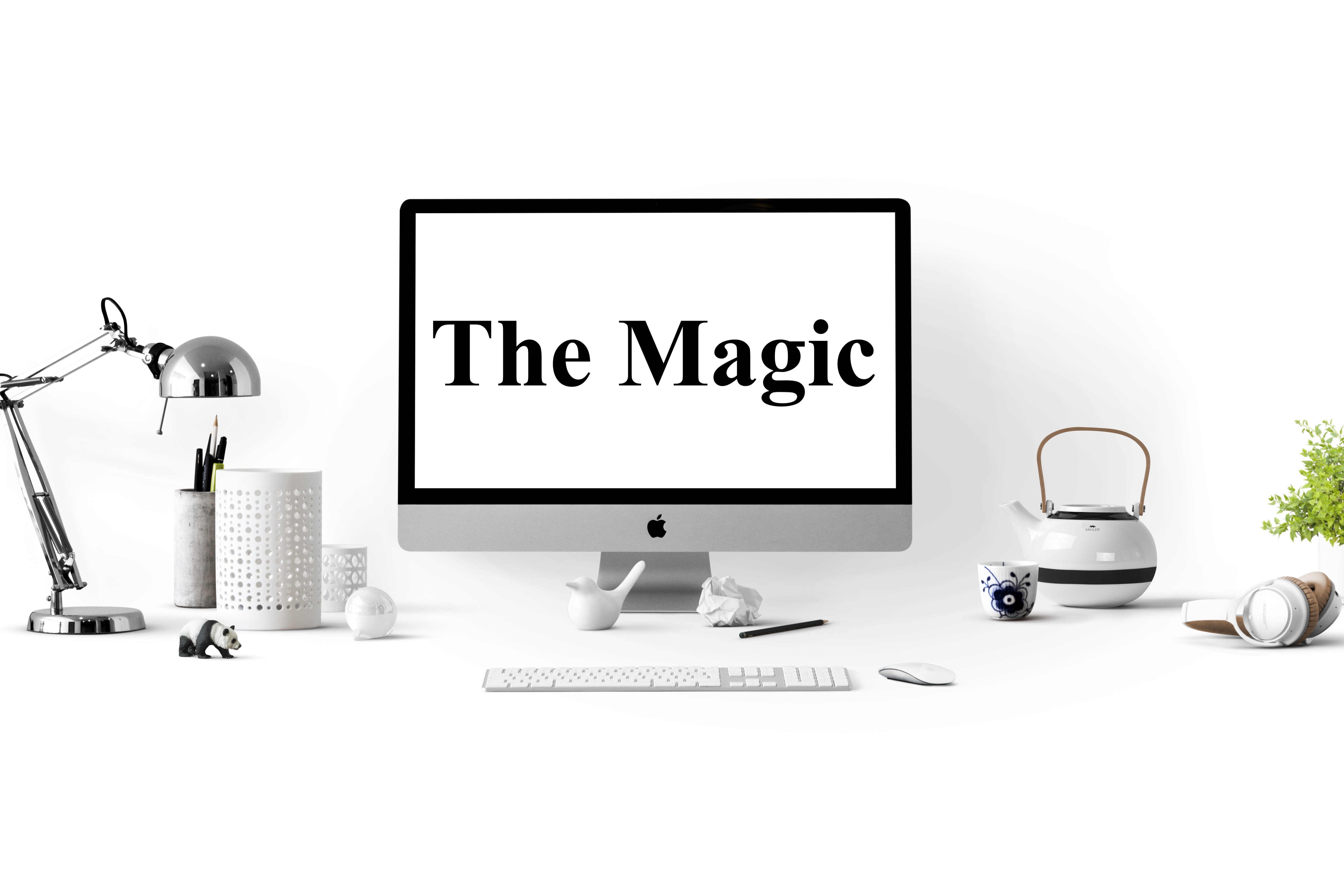 BankMill Magic offers 100% Complete Banking ERP centred around our flagship CBS functionality for all bank sizes from large commercial banks to smaller financial institutes such as MFIs and Cooperative Banks
BankMill MagicTM - Core will spellbound you with its magical features:
 

Charts

.

Custom charts in forms of line chart, pie chart and histogram are associated with screens

Chatbot

.

AI based chatbot is included on every screen to answer your and your customers' queries.

Cutting Edge Security:

 

BLAKE2 (Better than SHA2) for hashing 

AES (better than 3DES) for encryption

User login is based on authorised device id check

Multi-factor authentication -

OTP and Biometric based login access

n-Tier architecture

Regular Expression based syntactic checks at 2 levels (Front end and Middle Tier)

Dynamic Fields

(Only those fields will magically appear which you need, the remaining stay hidden based on context)

Generative AI Based Software:

Screens and Fields along with validations and connection to the middle tier / database can be made within moments.

Inbuilt Modes

T

raining, user test and demo

Interstellar Speed

.

The technology used such as MongoDB (100 times faster than SQL) in combination with proven and many new cutting edge technologies gives you speeds that you have never experienced before. All UX processing is done on the client computer and not server.

Multitasking (Multiple Tabs)

:

The software allows the user to open multiple tabs and the user can work on them simultaneously.

Multilingual Software

.

Both transliteration (script change, e.g. "Ajay" to "अजेय") and translation (dictionary base, e.g. "Home" to "घर") supported at a flick of the switch.

Print Reports / Download Data

from every screen

Regular Expression based

syntactic checks

for each field (Both in frontend and backend)

Responsive/Cross-Platform Front End

.

The software can run on any device from Desktop to a mobile phone browser and is also available as an app for IOS and Android. The screen and fields rearrange themselves magically based on the device size and layout. You can now do your work literally from any place on this planet.

 

Stunning and User Friendly UI

gives an ethereal feel when you work on it with such amazing features as auto screen resizing, cascading navigation panel, floating labels on each field and soothing colours.

Search returns a

spreadsheet style

output with all spreadsheet style actions allowed such as printing, downloading, searching,  sorting, hiding, moving columns and filters.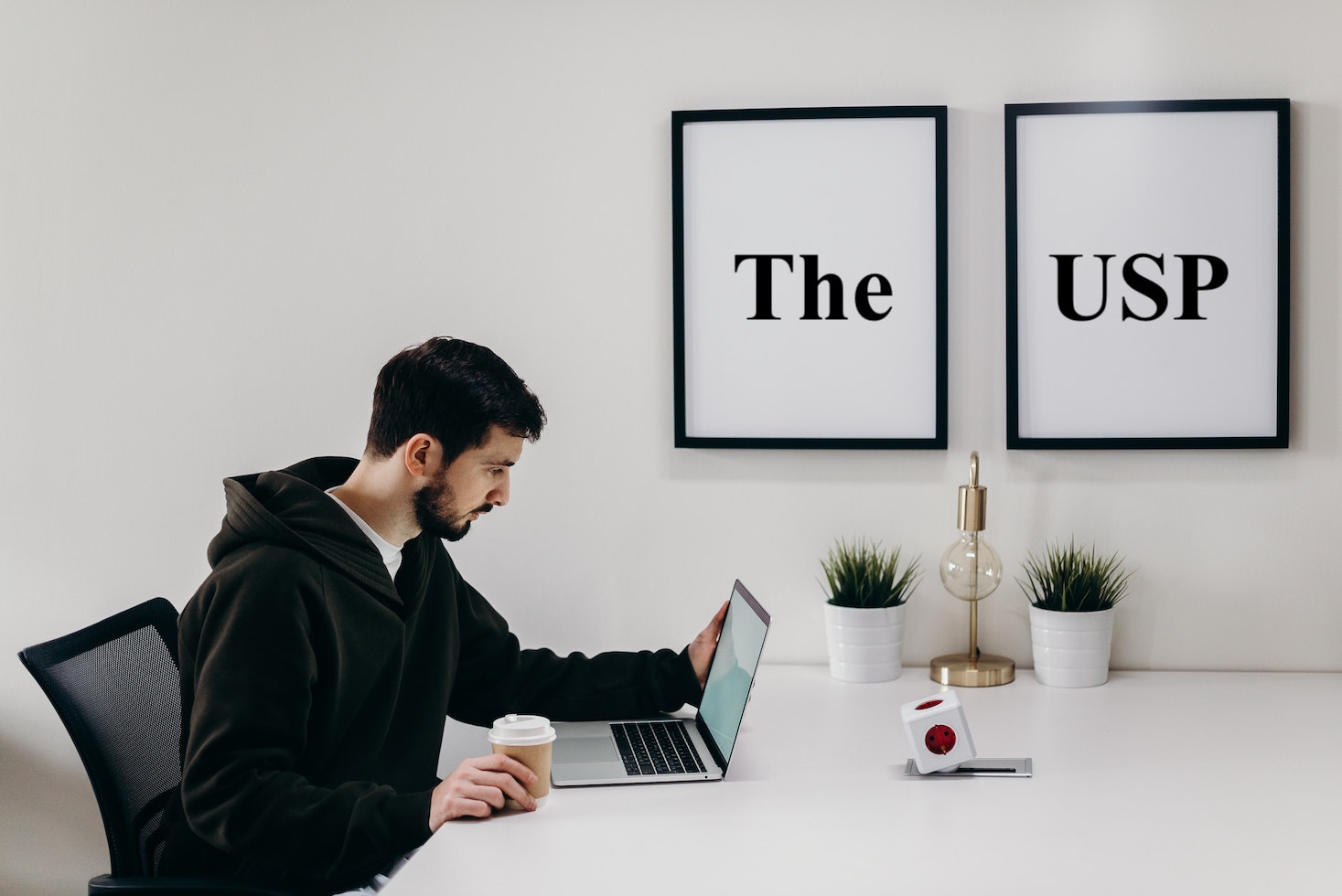 The main USP of the product is its extensive use of AI based RBE (Rule Based Engines) and Heuristics based AI code which is spread across the entire software. The ecosystem of the various AI codelets is controlled by an extensive system of neurons which constitutes the brain of the software.
The administrator can use this AI capability to generate new screens, and modify the fields or add language features in any field including translation and transliteration. This will enable organisations to create the application which suits them 100% rather than using an application which is "One size fits all".
Development Journey
BankMill MagicTM takes off from where BankMill 1.x left off. The journey was a parallel development of technology which took over 3 years to conceive, develop and test. The team included the best brains the world has to offer to bring together amazing design, technology, research and development. Its a unique confluence of a brand new front end with the good and tested stability of BankMill 1.x
Responsive Frontends
Application will work on all devices. The images below show the "Person Screen" on a laptop and a mobile screen. Notice how the fields are chained together and appear left to right on the lap top screen and one below the other on the mobile screen.
These are shown below:
Desktop Screen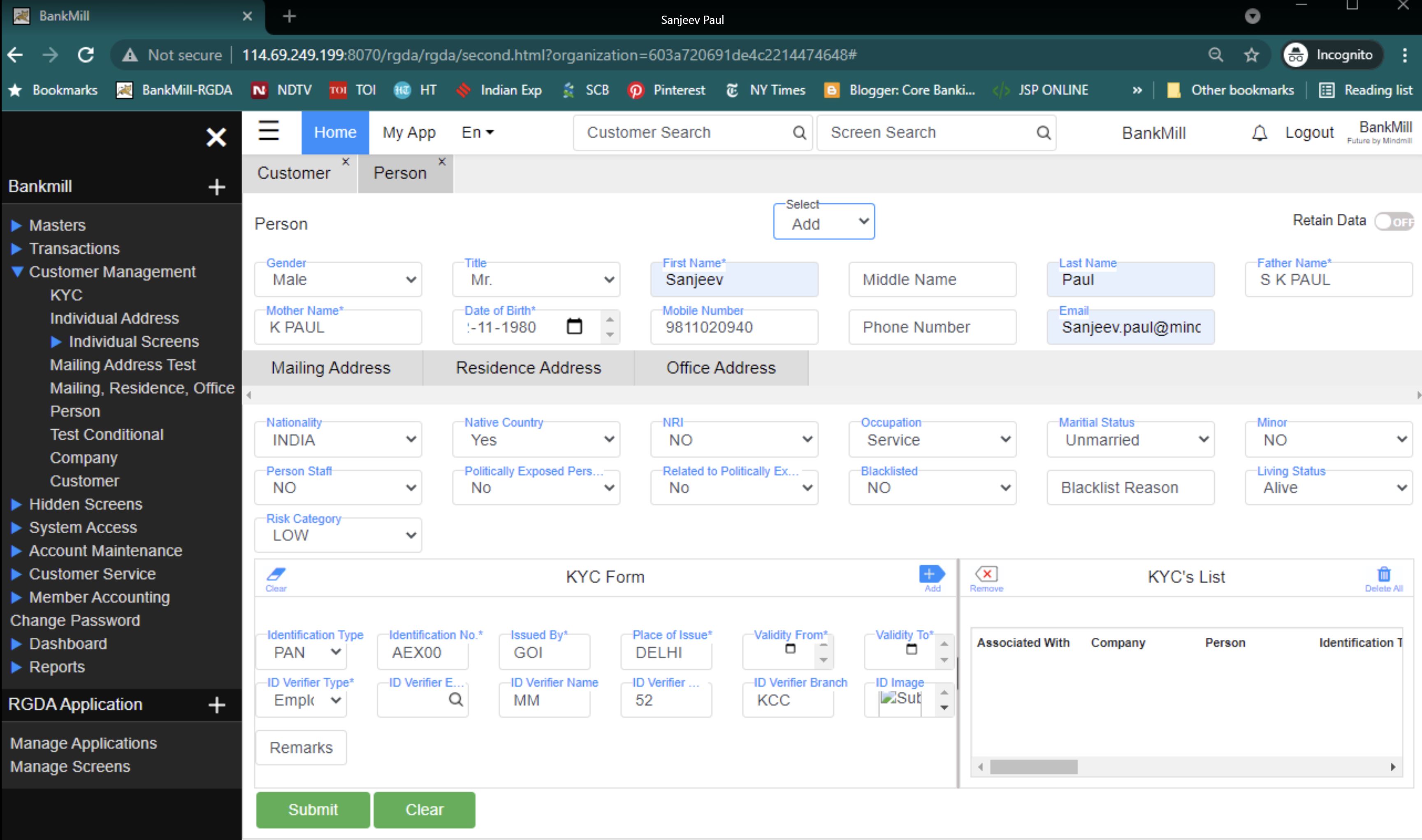 Mobile Screen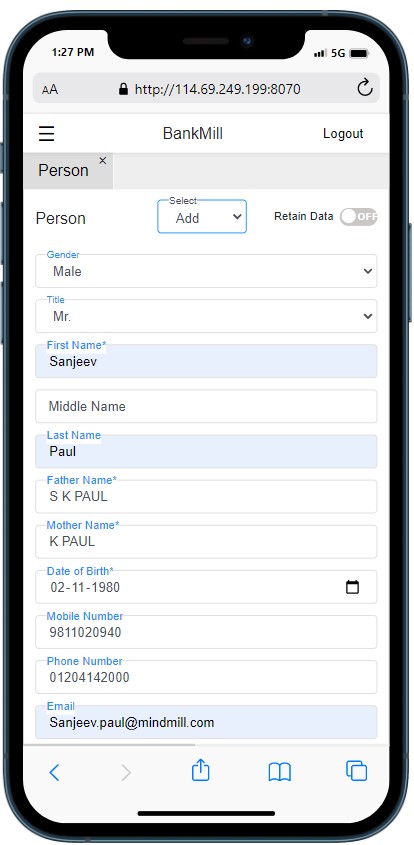 Unique Features & Benefits
The unique features of BankMill rarely present in any other CBS :
Normalized/Centralized Database  
Neural Nets
Blockchain In Audits And Balance Sheets 
Straight Through Processing 
Duplicate Customer Check Based On Name And Address
Suspicious Transaction Alert
Blacklist Handling
24/7 Support
Agent Commission
Automatic NPA
Day End 

Both Automatic And Manual Option Available
Both Centralized and Branch Based Options Available

Auto Inter Branch Reconciliation
Customer Category Auto Updating (Normal To Senior Citizen And Senior Citizen To Super Senior Citizen)
Virtual Accounts 
IMPS (Both Outward And Inward)
Enterprise Service Bus (SOA/ ISO 8583 Xml / Stream Based Interface) (These Are API's For IIIrd Party Interface)
GST/CGST 
150+ Automatic Service Charges 
3DES Encryption 
MD5 Encryption 
Multilingual 
WhatsApp Banking 
Chatbot Banking
All RBI/Xbrl Reports 
Complete Legal Module 
Complete Loan Origination System Module 
ATM Reconciliation
All Modules Integrated 
Own IPR 
VAPT Certified 
Cmmi Level 5  Certified
CISA Certified
100% Parameterizable 
Compliance To Latest Security Norms 
More Than 1M Transactions Per Day 
Cost Reduction Features
BankMill™ offers the lowest total cost of ownership and operations compared to any other CBS available in the market. This has been made possible by incorporating the following features:
All  the modules in the system are 100% integrated with each other. There is no movement of files and no manual processes are needed to accomplish inter-module transactions. All inter-module and inter-branch transactions happen in true real time.
Reports are available in Java which implies the bank does not have to invest in IIIrd party reporting tool licensing such as Crystal Reports.
Security Features
Audit Trails: Audit trail of each transaction in the system is kept with date, time and user-id stamp.
3DES Encryption: All data between a device and the backend is transmitted after encrypting it with industry standard 3DES encryption. This prevents any snoopers from sniffing the channel and getting financial data information.
Md5 Encryption: All passwords are kept using industry standard MD5 encryption. This prevents the administrator from knowing the passwords of any user.
Data Security: Data is kept secure using database login and password
Access Security: By Role and Rights explained more in Administration Features
Administration Features
Fully integrated with a variety of delivery channels such as Internet Banking, Mobile Banking, Email Alerts, Touch Screen Kiosks and IVR systems.
Product Definition: Highest possible level of parameterizing available
Interest Definition: High level of parameterization available
Masters, Control Values and other Parameters: : High level of parameterization available Service Outlet Concept: Each branch or delivery channel is designated as a service outlet and each transaction can be tracked at a service outlet level.
Maker Checker Concept: Allows the bank to have double or triple checks in place by having one person make an entry, another to verify it and sometimes if necessary a third to re-verify or enable it.
MindConnect™: Allows the bank to provide financial transaction access to IIIrd party solutions such as ATMs and Credit Card Institutes such as MasterCard and Visa.
Multilingual
Roles and Rights: A bank can create various roles (designations) based on its Organization Chart and associate view, create, modify and delete rights on each screen as well as access to the screen itself.
Customer Related Features
Unified Relationship Management across related but different customers and Multiple Accounts of the same Customer
Single account book means all transactions across all delivery channels are made at the same place and the customer can get a unified view of his account.
Accounts can be opened at any level including tellers.
All customer services are available, including cash, clearing, and transfer.
Completely parameterized standing instructions input and execution including prioritized debit from multiple accounts and rule based credit to multiple accounts.
Cash pooling of all accounts of a customer for interest purposes with rule based amount outflow to different accounts to allow customers the maximum benefits across branches
Statement printing is available from all the various delivery channels
Accounting Features
Real time transaction processing
Straight through processing
Tree Based multi level GL Head Structure
Single bank-wide General Ledger, Profit & Loss and Balance Sheet for all modules
Detailed MIS including Asset Liability Reports
Text and WYSIWYG (what you see is what you get) based Reports
Inter-branch Reconciliation
True Multi Currency
Other Features
Regulator based Image based Inward Clearing File based inward clearing
Deposit Receipt, Passbook, Remittance, Membership Certificate, Share Certificate, and Notice Printing
Technology
The front end uses technology such as:
Javascript
CSS
HTML
DOM
Ajax
REST API
JAVA
Spring
Configuration Storage is MongoDB. The middle tier and backend tier uses Java and SQL respectively. Data interchange happens via encrypted and compressed JSON/XML structures.
The software can work with any standard RDBMS such as MS SQL, and Oracle
About Mindmill
Mindmill was established in 1993. It has over 300 full time employees and clients in 22 different countries. It provides software solutions and support to clients all across the world directly or via its local authorized partners. It has products in the BFSI domain and BankMiIlTM is its flagship product. It is an ISO 9001:2008 and CMMi Level 5 Certified company.
Contact



This email address is being protected from spambots. You need JavaScript enabled to view it.
Business Development
Mindmill Software Limited
Mindmill Corporate Tower
24A Film City, Noida, UP 201 301, India
Tel: +91 120 414 2000
URL: www.mindmill.com
Mindmill has an exceptional level of expertise  in implementation of CBS using cloud architecture including WAN design and Security Setup. Mindmill has unparalleled response and 24 x 7 help desk  to support clients all over the world.